Who are professional advisors?
"Professional advisor" is a term used by Greater Horizons to describe wealth managers, financial planners, accountants, insurance professionals, attorneys and other advisors who work closely with charitable clients.
How does a donor-advised fund, also known as a charitable giving account, work?
Your clients have separate accounts for money they want to use for specific purposes: checking accounts, 401(k) retirement accounts, 529 college savings accounts. What about their charitable giving?
A charitable giving account, also known as a donor-advised fund, is an attractive alternative to a private foundation, offering more flexibility, confidentiality and maximum tax benefits. In addition, you or your client's financial advisor can manage the assets in the account through our Financial Advisor Program.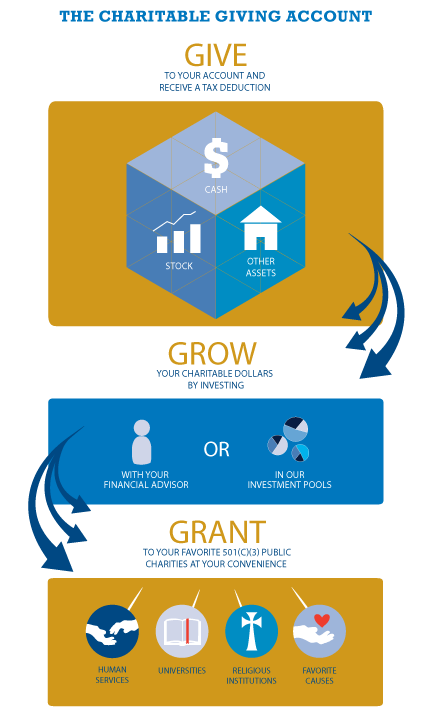 Is there a minimum dollar amount required to open a donor-advised fund?
There's no minimum dollar amount required to open a fund; your clients can establish a fund with any balance that's comfortable to them. There are also no minimums for gifts to the fund or grants out of the fund. In addition, there's no minimum balance required to participate in the Financial Advisor Program.
What are the fees associated with establishing a donor-advised fund?
This administrative fee structure illustrates the annual cost for a fund. These fees are assessed to the fund on a monthly basis.
The monthly fee equals one-twelfth of the annual fee, based on the average fair market value of fund assets for the month. If there are no assets in the fund for the entire month, there is no fee. For newly established funds, the annual fee is prorated over the remainder of the year.
Fund Assets up to $7 million
Annual Administrative Fee
first $500,000
1.00% or $250
(whichever is greater)
next $500,000
0.60%
next $2 million
0.30%
next $4 million
0.10%
For funds with assets in excess of $7 million, please contact us at support@greaterhorizons.org or 866.627.3440.
Sample Fee Calculations

Fund assets of $10,000
$250 minimum fee applies
(1.00% of $10,000 is less than $250)
Total annual administrative fee = $250 ($21/month)
Fund assets of $30,000
1.00% fee on $30,000 = $300
Total annual administrative fee = $300 ($25/month)

Fund assets of $600,000
1.00% fee on the first $500,000 = $5,000
0.60% fee on the next $100,000 = $600
Total annual administrative fee = $5,600 ($467/month)
How do I set up a fund for my client?
Establishing a fund at Greater Horizons is easy. Simply complete our online form, or fill out our Establish a Donor-Advised Fund PDF form and return to info@greaterhorizons.org or fax to 816.842.8079.
Please provide your clients with a copy of Greater Horizons' Procedures For The Establishment And Operation Of Funds and relevant sections of the Bylaws.
How does a Greater Horizons donor-advised fund compare to a private foundation?
Private Foundation
Charitable Giving Account
Maximum Tax Benefits
No
Yes
AGI Tax Deduction Limitation – Cash
30%
60%
AGI Tax Deduction Limitation – Long-Term Capital Gain Property (Publicly Traded Stock, Closely Held Stock and Real Estate)
20%
30%
Gifts of Qualified Appreciated Securities (i.e., Publicly Traded Stock)
Fair Market Value Deduction
Fair Market Value Deduction
Gifts of Real Estate or Closely Held Stock
Cost Basis Deduction
Fair Market Value Deduction
Privacy/Confidentiality
No, Disclosure of IRS Form 990PF* Is Required
Yes, Confidentiality Maintained
Excise Taxes on the Sale of Highly Appreciated Gifts
Yes
No
Annual Excise Tax Payments
1-2% of Net Income and Net Realized Gains
None
Custom Investment Program for Each Charitable Entity or Fund
Yes
Yes
Ease and Cost of Establishing Charitable Entity or Fund
Complex


Legal Expenses and IRS 1023 Application Fees and Expenses

Simple, No Cost
Annual Minimum Distribution Requirement
5%
None
Personal Service by a Mission-Based Organization
No
Yes
*Annual IRS Form 990PF disclosures include the following: asset size, investment earnings/detail of investments held, board members and addresses, detail of grants distributed, and detail of contributions made.
How do I name my client's donor-advised fund as a beneficiary in an estate plan?
If you have a client who wants to name their fund at Greater Horizons as a beneficiary of their will or trust, life insurance policy or retirement plan account, the following may be helpful in completing their estate planning documents or beneficiary designation forms.
After describing what your client is leaving to the fund (i.e., a percentage of the estate/trust/account or a specific dollar amount), simply say it will pass "to Greater Horizons for the [name of your client's fund]."
Our staff will be happy to work with you and your client to establish a fund during your client's lifetime to receive assets at their death. By working together ahead of time, we can ensure your client's fund will carry out their charitable goals beyond their lifetime.
As a reminder, Greater Horizons is a 501(c)(3) public charity. Our tax identification number (EIN) is 20-0849590.
Can my client donate complex assets?
Yes. Read about donating complex assets.
Can I manage my clients' charitable assets?
Yes. Read about Greater Horizons' Financial Advisor Program.
How can I help my clients become more strategic givers?
The Giving Guide will lead your client through exercises that will help them review past giving, identify interest areas, define values and create a mission statement. Download a PDF of the Giving Guide or request a hard copy.
Who can I contact for more information?
See Greater Horizons' contacts for advisors.