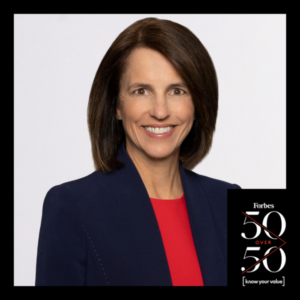 As a recently announced member of Forbes 50 Over 50, Debbie Wilkerson joins an impressive group of trailblazers who are leading the charge for a better world. Debbie is featured in the Impact category, a testament to helping donors make a difference in all corners of philanthropy across the globe through charitable funds. Curious to learn how she got here? Keep reading to explore Debbie's journey in creating an extraordinary impact at Greater Horizons.
After graduating from the University of Kansas Law School, Debbie joined Kansas City-based law firm Shook, Hardy & Bacon LLP in the mid-1990s, where she worked under some of the brightest minds in estate and tax law. She was introduced to the Greater Kansas City Community Foundation when working on Ewing Kauffman's unprecedented donation of the Kansas City Royals to the Community Foundation. Mr. Kauffman's goal was to ensure the team would eventually be sold to an owner who would commit to keeping the Royals in Kansas City, and that proceeds would benefit Kansas City charities. It was the first and only donation of a major league sports team to charity in U.S. history. This opened Debbie's eyes to the incredible things donors could do through philanthropy at the Community Foundation, and she knew that's where she wanted her career to go.
Debbie found her "in" at the Community Foundation in 1998, serving initially as Assistant Vice President of Development. She moved to corporate counsel and played a critical role establishing Greater Horizons as the Community Foundation's national entity working for donors across the country in 2004.
Serving as CEO since 2012, Debbie's had the opportunity to help countless donors give to charity in innovative and unique ways. Debbie has been at the helm as Greater Horizons and the Community Foundation's combined assets have grown to $5 billion, and grants from donors' charitable funds surpassed $6 billion.
Debbie believes her greatest professional achievement is seeing the magic that happens when donors choose to work with the staff at Greater Horizons. She says, "We are working with donors at levels I never dreamed possible when I started working here 25 years ago. Donors could work with philanthropic advisors anywhere in the country but choose to work with our team because of our unique expertise. We are humble in the Midwest, but I'm proud to say we've found our formula: nice + smart."